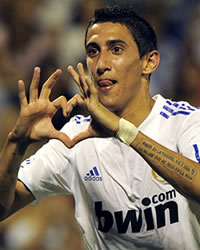 Real Madrid has unconvincingly pulled off a narrow 1-0 victory at home to Sevilla. A crucial 77th minute strike from Angel Di Maria, the man Los Blancos signed from Benfica for $25 million, proved to be all that separated the two sides in what can only be described as an ill-tempered encounter that saw two red cards being handed out.
In recent times, this fixture has been characterised by high-scoring games, however this particular meeting proved to present very few goal scoring opportunities for either squad, particularly in the first half. Karim Benzema, a player under pressure to impress his employers, had a fruitless match which resulted in nothing more than a near miss in the first half which truly highlighted his now apparent lack of confidence. Los Blancos' best chances came from two near identical free kicks from Cristiano Ronaldo, who showed his skill to nearly slot home past Andres Palop.
Sevilla also had their fair share of opportunities in the first half, however like Madrid, they did not seem adventurous or willing to break the deadlock. The visiting team continued to threaten the Madrid defence down the wings and an Escude header from a Capel cross drifted just wide of the Casillas goalpost in the 23th minute. Madrid defender Carvalho was lucky not to be given his marching orders when he pulled down Negredo towards the end of the first half. The resultant free kick was drilled at Casillas by Romaric, but was then ultimately cleared by Pepe. A fruitless first half ended with what appeared to be a dispute between Mourinho and the Sevilla bench.
The best chance of the game so far fell to Sevilla forward Negredo in the 57th minute. Luis Fabiano had planted a through ball past the Madrid defence but the final ball was drilled over the cross bar after being one-on-one with Casillas. The pressure continued to pile on the home team when Carvalho was given a second yellow card after he leant in with an elbow on Negredo.
At this stage, a continuation of Mourinho's 8 year home match-undefeated streak seemed to be in doubt. Both Benzema and Khedira were substituted for Pedro Leon and Esteban Granero respectively and this seemed to spur the home side on to create more goal scoring opportunities. Los Blancos continued to dominate, however it wasn't until the 77th minute that Di Maria's strike from a tight angle gave Madrid the slender lead that they had been chasing down all game. Mourinho's aggressive strategy of using a three-man defensive formation following Carvalho's sending-off had finally paid off. Mouhamadou Dabo was also given his marching orders for kicking out at Di Maria during injury time, which reduced the numerical advantage the away side had over Madrid.
While the result may not have been convincing, Mourinho's Real Madrid had managed to carve out a 1-0 home victory that ensured they would go into the Christmas break trailing Barcelona by only 2 points. It may not have been a classic performance from the match-winning squad, but it was a prime example of Mourinho managing to grab a victory despite an injury-stricken and partially suspended first eleven squad.
Final Score - Real Madrid 1 Sevilla 0
Di Maria 77
Man of the Match : Angel Di Maria (Real Madrid)
Article by Alexander "Real Madrid" Novo (Facebook and Twitter follower)