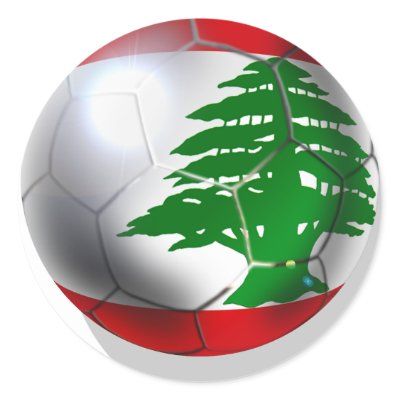 It's been well documented in the media that the A-League crowds for the 2010/2011 season are drastically lower than previous seasons, with fans not turning up to games for one reason or another. Many say its due to the league being "stale" or the level of play isn't "exciting enough" or they blame it on the timing, weather and the lack of promotion. While football in Australia tends to fair not as well as an Australian football fan would like in comparison to other national leagues, it certainly has made an impact since the sport's overhaul in 2005.
But while many tend to complain about the crowd numbers but yet lack the "proactiveness" to do anything about it, spare your thoughts for the Middle Eastern nation of Lebanon.
It's certainly a country that loves its football, but in Lebanon the sport is in trouble, thanks largely to the politicisation of the game and fears for the security of spectators.
In this tiny nation of just over four million people, football is one of the most popular sports, and any game played could easily fill up any stadium. Unfortunately for the fans of the world game, due to the tense and sometimes violent political atmosphere, they are forced to either watch from nearby apartments, wait outside their stadium, or view proceedings on live television.
Introduced to the country in the late 1800's by foreigners and made popular by the immigration of Armenians to Lebanon and while under the French Mandate, The first competition was played out in 1934 and in 1936 Lebanon joined football's governing body, FIFA.
Football is played everywhere: from the parks to the streets, it's not uncommon to see a game being played amongst friends and youth. But while the playing of the sport is widespread, its active support of its league is dwindling.
For more than three years now, the Lebanese Football Association (LFA) has imposed a ban on spectators out of fears that sectarian violence could break out. This decision was made in the aftermath of the 2006 Israeli war as the government concluded that large gatherings of football fans, many of whom are divided amongst religious and political affiliations, would be best avoided due to the prevailing tensions.
In Lebanon, where politics dominates life, many teams are backed by political parties or religious groups. For example, Al-Ahed is backed by the political party Hezbollah through their television station Al Manar; former Prime Minister Rafiq Hariri supported both Al-Nejmeh and Al-Ansar; Shabab al Ghazieh is a Shia Muslim team from the south; Druze politicians support Safa Beirut while Christian majorities support both Club Sportif La Sagesse and Salam Zgharta. The lack of funding of the game has paved the way for such groups (whether for noble or other purposes) to step in and take control of the clubs.
"There are always political problems because every team belongs to politicians and the fan starts to hit each other with cans, sticks, guns or anything else," says Badwi Al-Maarrawi, a Salam Zgharta fan in the northern town of Zgharta. "The soccer in Lebanon is going down, there is no advertising, no money and no government support."
Many teams choose players not on their skill and ability, but on their political backing and religion. "There are a lot of good players [in Lebanon]. Some of them go to Germany to play in the Bundesliga, but here there is no support for teams, no budget…" explains Mr Al-Maarawi. Many parties use the teams as a form of political propaganda, with the stronger teams paying bribes to politically aligned teams to roll over and lose, a sign of the political tug-of-war in Lebanon. A victory against a rival team is a victory over a team's political and religious foes.
For many, the only way to watch their teams play is either through live television, listening to it on radio or for the die-hard ones, sneaking past security to watch it live.
Violence has broken out in the past as gun incidents and fan troubles are common, with players and coaches sometimes targeted. In 2007, Hussein Dokmak and midfielder Hussein Neim (both of Al-Nejmeh), along with Serbian manager Nenand Stavric were all killed in a roadside bomb blast on their way back from training, the very same bomb that killed politician Walid Eido.
Information about the sport inside Lebanon is scarce on the internet. The LFA doesn't have an operating website; the only official link to FIFA is the organisation's webspace on the FIFA website. A Google search comes up with either out-dated match reports about various club exploits or of American football being played in Mt Lebanon in Pennsylvania, USA.
Any curious-minded individual would in their first instance turn to Wikipedia to satisfy their curiosity about the sport, but yet the information on some of the various clubs/players/seasons are horribly outdated (with some information still up from 2007) or are incomplete. Most websites that do provide weekly updates are (rightly so) in Arabic, but even some of the clubs websites like Al-Nejmeh haven't been updated since 2007.
Even though the fan ban doesn't extent to the national team, support is still not as strong as it could be. While football is a passion for many, the Lebanese team, currently ranked 154 with fellow minnow teams like Chinese Taipei and Myanmar further up the ratings ladder, suffers from lack of funds and lack of support from its own people. Teams like Brazil and Germany are followed passionately by the whole nation due to their international exploits, with towns littered in their colours and flags. Yet fewer than 800 turned up to see Lebanon face Uzbekistan in a qualifier for the FIFA World Cup at the Camille Chamoun Sports City Stadium in Beirut, which can fit just under 50,000 people.
"Many people follow teams like Brazil and Italy in Lebanon and whenever they play, it's like a carnival atmosphere," says Nicholas Toubia, an architectural student and a Lebanese football fan. "There are many flags put up on homes when they play, but when Lebanon plays many people either don't know or don't care. For many, Brazil is their national team."
So as the war wounds in this tiny nation are slowly healing, its football continues to die a slow death. So next time the fans of Australian football berate each other for not turning up to games and conjuring up excuses for not turning up, just spare a thought for their Lebanese counterparts sitting on the fence trying to watch their team play.
By Marcel Abboud - (Facebook Follower) - Football Correspondant