Watching Gold Coast United FC 2010/11 A-League season has been like being on a see-saw: it's either up or down, with a rare moment of an in-between. The second season for the boys from the Glitter Strip have seen them ditch the hype that owner Clive Palmer heaved unto them last season and has seen a team with flashes of brilliance at one time or another. Their final position on the season regular table doesn't accurately describe their form for the season, at times they were struggling for wins and at other times fighting for second place. Their final position sees them finishing in fourth place, with a home semi-final against Melbourne Victory.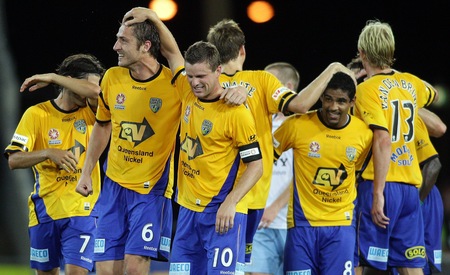 While losing want away captain Jason Culina to a knee injury whilst on Socceroos duty, Miron Bleiberg's recruitment policy during the season saw the return of two time A-League golden boot winner Shane Smeltz from Turkey, the introduction of former Adelaide United striker Bruce Djite, as well as Peter Perchtold from 1. FC Nuremberg II and South Korean Kim Sung-Kil from Busan Kyotong. While their football hasn't been flashy unlike last season, it has been enough to get them through to the finals series.

Without a doubt, Shane Smeltz will be once again Gold Coast United's go to man to bag in the goals. Since his return from Turkish club Gençlerbirliği, he has been on the scoresheet in every game. Service from the midfield will be the key to his firing up, as departing midfield dynamo Zenon Caravella will be relied upon to help supply the attacking front.


A cagey and tight affair will be had against Melbourne Victory, with a goal to separate the two sides. Even though the ledger falls in Melbourne Victory's way, PTA favours a Gold Coast United progression over the two legs with Smeltz playing a key roll. Should Adelaide United win their semi-final tie, it will be hard to see a Culina-less Gold Coast United make it to the Grand Final.

By Marcel Abboud