This week saw Norwich City secure second place in The Championship and automatic promotion to the Premier League, following an uncharacteristically low scoring 1-0 win over Portsmouth. Norwich became the first team in over a decade to manage back to back promotions into the Premier League, but for a team who were widely tipped to struggle in the Championship, how exactly was it that they managed to achieve this incredible feat? Equally, now they've reached the promised lands of the Premier League, what are the chances of them still being there in a year's time? Here are what I consider the most important pieces of Norwich's success, and my assessment on what chance they have of Premier League survival:
T
The manager - Paul Lambert.
It's August 2009, and Norwich begin their first season in The Championship by crashing to a 7-1 home defeat to Colchester. One fan runs onto the pitch and tears up his season ticket in front of the then manager Bryan Gunn, and it is clear that changes are needed. Soon after, Colchester manager Paul Lambert is recruited by the Canaries, and despite the opening day thrashing, Norwich go on to have the best home goal difference that season in all of the English leagues, at time averaging scoring 4 goals a game. Lambert brought a new type of football to Carrow Road, a free flowing, fast passing game centred around technical players like Wes Hoolahan and with the focal point of captain and top goal-scorer Grant Holt up front. Unsurprisingly, numerous struggling Premiership clubs were rumoured to make approaches for Lambert throughout the season, but with the Canaries on such a high, he has no reason to leave at the moment.
2.
The Captain – Grant Holt.
Every team needs a talisman, someone to lead from the front and to steal the crucial goal, even when the team doesn't play well. Think of all the times Gerrard has rescued Liverpool from goalless draws or defeats with a last minute wondergoal and you still won't be close to realising Holt's importance to the Canaries. A scoring record of 44 goals in 81 games is already an impressive statistic, but it's made all the better when you realise that he's usually the first goalscorer – the player who breaks the deadlock and open the floodgates, rather than the player who taps in the fourth or fifth goal when the team is already home and dry.
3.
Momentum
and Home Form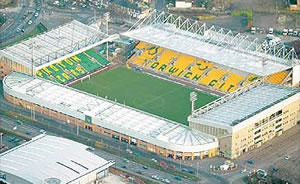 As touched on before, Carrow Road has become a bit of a fortress for Norwich City. They are yet to lose a league match at home in 2011 and between November and April played 25 league games with only 2 losses. Their presence in the race for an automatic spot wasn't really noticed until close to the end of the season, and most considered them only play-off contenders. But where some teams (here's looking at you, Arsenal and Cardiff) tend to fade off at the end of a campaign, Norwich finished strongly, maintaining a season-long high quality of consistency. While captain Grant Holt has scored an impressive 20 league goals this season, in the final games where he began to struggle to find the net, other players stepped up to the plate. Simeon Jackson, the man who scored the promotion-securing goal against Portsmouth scored a fantastic 9 goals in their last 7 games.
This one doesn't need much explaining. Norwich have scored 12 goals in the last 10 minutes of league matches this season, mostly winning goals too. Most recently and famously, Simeon Jackson completed a hat trick in extra time against Derby County, earning the Canaries a 3-2 win, keeping them in 2nd place, ahead of rivals Cardiff. Norwich's never-die attitude will be crucial to their hopes of Premier League survival.
This is one area where I have a lot of respect for Paul Lambert. His loan signings this season have been impeccable, but we'll concentrate on just two of them - Henry Lansbury, a midfielder on loan from Arsenal, and Dani Pacheco an attacking midfielder or forward, on loan from Liverpool.
Of the two, Lansbury has obviously had the bigger impact, making 14 more appearances and scoring 4 more goals than Pacheco, but he has also spent double the time at the club. The cleverest thing about these loan signings isn't their current performances however, although they have been excellent. Paul Lambert is looking to the future – he has taken two excellent youngsters who are unlikely to get many chances at their original clubs (Lansbury has youngsters Wilshere and Ramsey among others as direct competition, while Pacheco is repeatedly and constantly overlooked by Liverpool), and given them a home at Norwich. He has shown confidence in both, and if either are unhappy with the amount of chances they get at their big clubs next season, I wouldn't be surprised to see them return to the Canaries, perhaps on a permanent basis.
And so we're left wondering, can Norwich actually avoid immediate relegation from the Premier League? The club have already admitted that they don't have the financial backing necessary to do anything other than try to survive, but this season was the same – great things were never expected of them. They have a settled team, most of which has played together for at least 2 years now, and it would only take a couple of clever signings to see them with a real chance of surviving the toughest league in Europe. Of most importance has to be a defender. They may score enough to hide it, but Norwich also concede their fair share of goals, some 56 this in the league this season. They will be one player short when Zak Whitbread returns to Blackpool after his loan spell ends, and I am sure Paul Lambert will already be looking at potential targets. The only issue is, now that they are in the Premier League, it will be far harder to sign top youngsters from clubs who now see them as direct competition.
Overall, they have a chance. They're by no means the worst squad to reach England's top flight, and they show a resilience necessary for survival. The fitness of Holt and Hoolahan in particular will be crucial, but with a decent start, a good home record, and a strengthened defence, you wouldn't want to bet against them being another surprise package next season.